What is the Difference Between HR Reporting and People Analytics?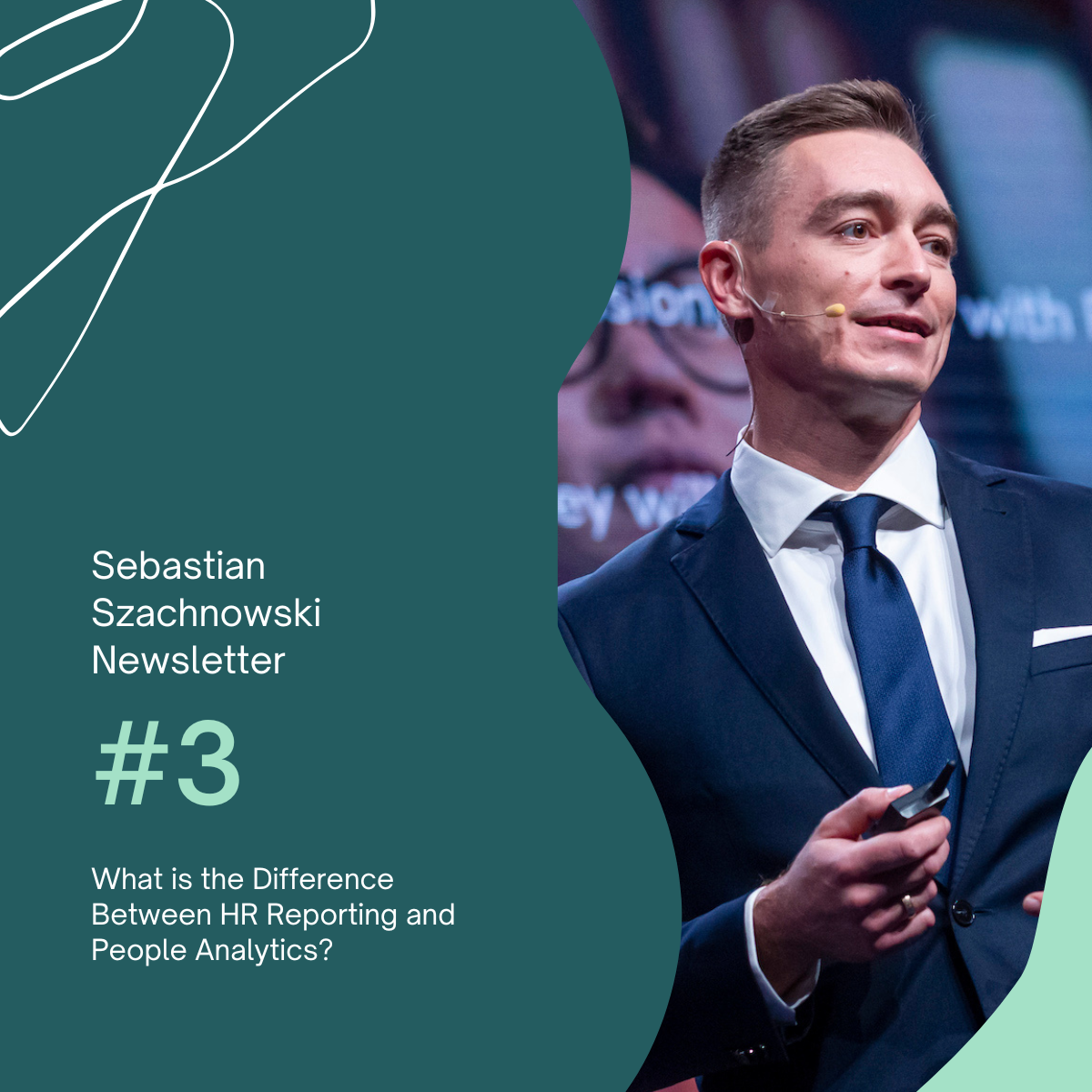 Hello!
My name is Sebastian Szachnowski and I write about People Analytics and Digital Transformation of HR. All in relevance to the business. This is the third issue of my newsletter.
In this edition, I will elaborate on the differentiation between HR Reporting and People Analytics. I'll also present case study about People Analytics Journey in the LEGO Group. Additionally, we deep dive into Data Management topic.
Table of contents:
HR Reporting vs. People Analytics
Case Study: People Analytics Journey in the LEGO Group
Data Management
Interesting articles
Recommended books
I hope you will enjoy this issue of my newsletter!
HR Reporting vs. People Analytics
HR Reporting and People Analytics are intertwined concepts. Both serve value to the organization. They are necessary for the efficient management of the workforce and the HR processes. Reports are intended to share information, whereas analytics facilitates insights. Below, you will read what that means in practice.
HR Reporting is an essential point of access to the data within a given system, enabling the owners of the related processes to retrieve data for review and analysis.
Typically, HR Reporting is organized into pre-defined tabular views, providing users with some options to filter the data to get view about specific parts of the organization or process. HR Reporting might contain metrics, which are calculations based on data, and trends which display the data in different time periods. Different than HR Reporting, People Analytics tends to be more aimed into revealing insights than sharing information.
People Analytics can have different meanings, i.e. it can describe a set of activities like consulting and advising, but for the comparison with HR Reporting we will focus on its meaning as a category of deliverables.
There is no predecessor and successor relation between HR Reporting and People Analytics. They are both vital parts of the organization. In fact, lack of People Analytics function in the organization points to the fact that they are less mature compared to those who have such function. Although, both functions should exist in all companies so there is no relation in a kind of maturity continuum between them.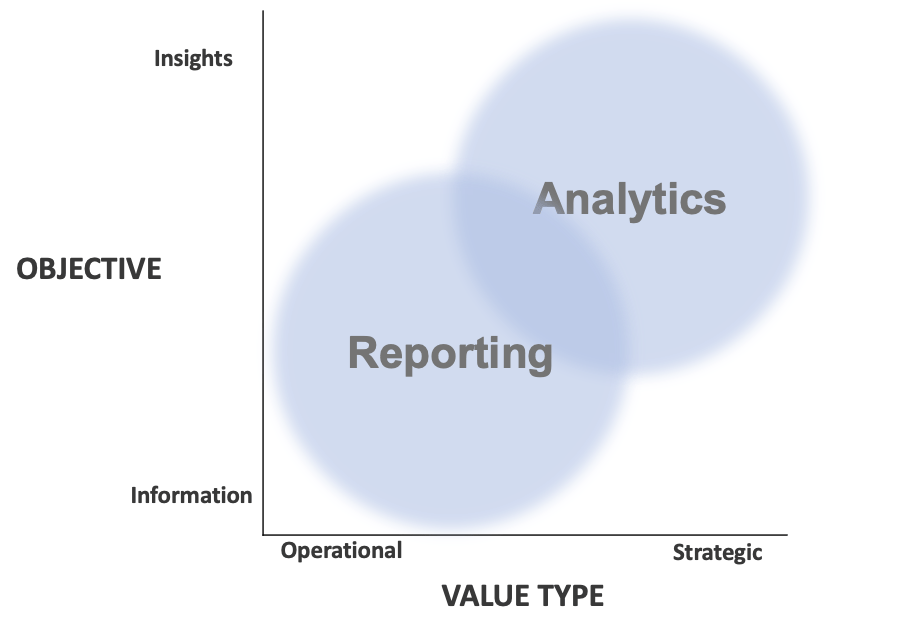 People Analytics will be focused on generating insights. In fact, some advanced analytics solutions will have insights directly within the solution, but most often the insights are expected to occur when the user views and interacts with the content in the deliverable.
In general, HR Reporting helps with operational items such as efficiency monitoring, process monitoring and improvement, auditing, internal control, external obligatory reports to national or federal authorities. People Analytics is aimed to generate insights that will lead to decisions and actions. It facilitates hypothesis generation and testing.
People Analytics delivers products, projects, and services.
Products of People Analytics are for example:
Dashboards and Storyboards – interactive collection of visualized data designed with a goal of generating insights by or for the user. They might contain data science elements such as machine learning. Storyboards are often designed in a question format and are aimed to extract a story or path of thinking.
Embedded Data Science – AI/ML modelling that are embedded within other products, i.e. time-to-fill prediction consumed by recruiters directly in recruiting system.
HR Reporting – it's often People Analytics team responsibility so it should not be forgotten.
People Analytics Projects might be including:
Deep-dive studies which are covering specific topics, testing hypothesis, usually resulting in a presentation or delivered document which contains data, metrics, visualization, written insights, and even recommended actions.
Experiments and explorations to dig into the data, test hypotheses, generate mock-ups and prototypes.
People Analytics Services are for example:
Evaluation and creation of learning opportunities to increase analytics skills among HR community in the organization in generic terms or specific to the People Analytics platform.
Change Management regarding engagement and adoption of analytics tools and methods in HR community in the organization.
Consulting and guidance regarding strategic decisions and programs that might be implemented to solve specific business problems of the organization or its parts.
HR Reporting and People Analytics use the same systems and processes to generate data.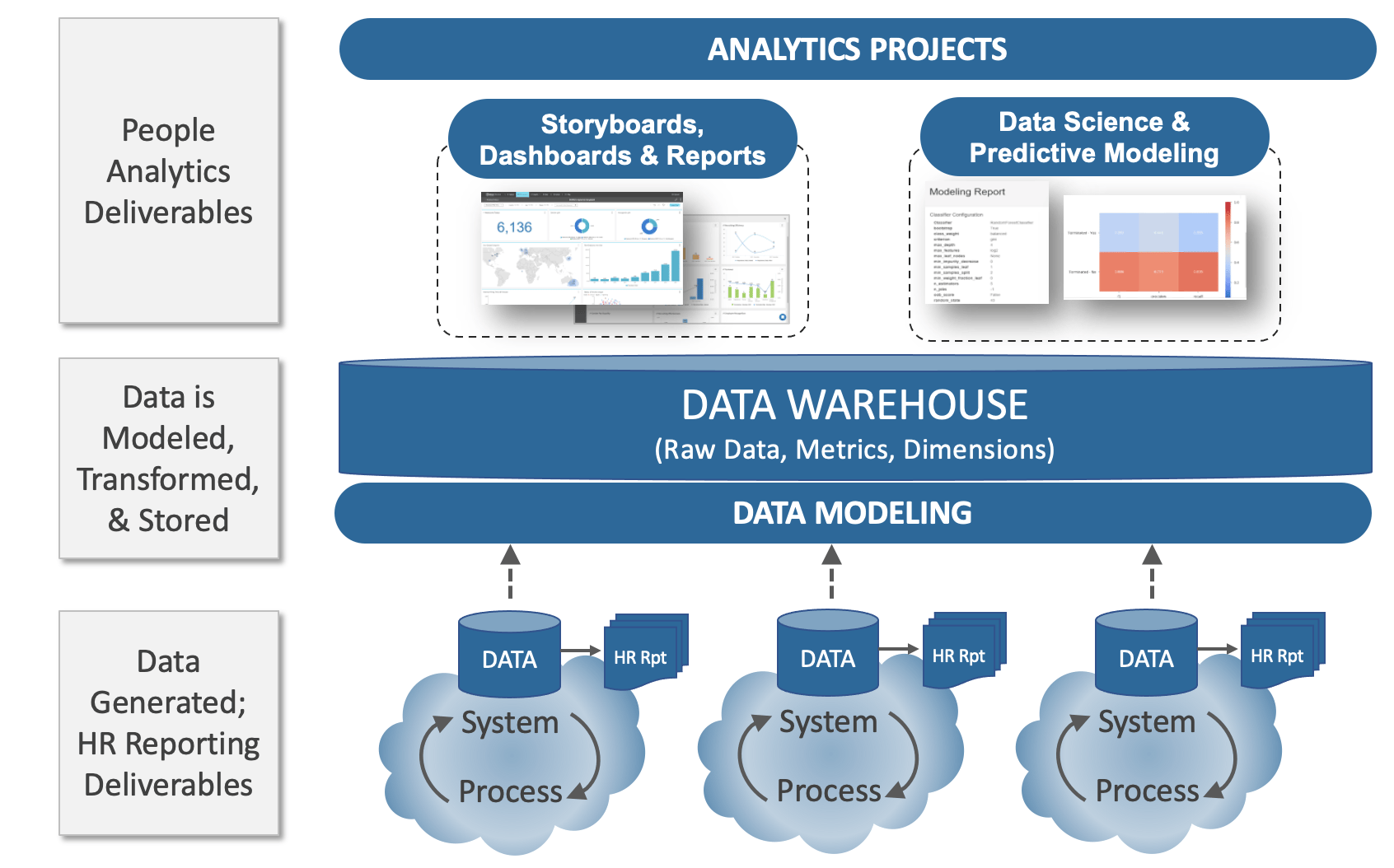 You don't need to have a perfect HR Reporting before you start with People Analytics. The two is a tandem and they are mutually reinforcing each other. The greatest value from both will be achieved when there is a robust, integrated and flexible data foundation. It should be aimed to create the most value at the fastest pace.
Source: https://www.onemodel.co/blog/hr-reporting-and-people-analytics
Case Study: People Analytics Journey in the LEGO Group
The people analytics team in the LEGO Group has been created in 2018. The goal was to demonstrate value to the business as a whole and create a pull effect, so that people would begin to come to the team for data and insights.
The LEGO Group people analytics team knew there was no point in waiting to implement their people analytics solution with their planned HCM overhaul. They realized from the offset that there was good information sitting in the business that could help with their business strategy, but they couldn't get it out. For example, HR and Finance weren't even aligned on overall headcount.
They implemented the people analytics platform from Visier, not waiting for the HCM to be overhauled first.
The demand quickly grew high, and the team got great reactions when they presented results of their analysis to their stakeholders. Since the number of requests for their service was thriving, they had to learn to say yes only to selected projects. This was because each investigation meant pulling the data, cleansing it, enriching, transforming and then visualizing it.
The analytics group needs to comment on the quality of data being used, not 'own' the task of becoming the guardian of the data or cleansing the data. If the people analytics team takes ownership of the data, they immediately risk becoming an HR operations function rather than an analytics team.
To respond to challenges regarding limited team's capacity, they decided to automate the cleaning and wrangling data phases, speeding up the process so they could spend more time analysing and presenting.
They started rollout of the new cloud based people analytics platform to HR Business Partners in 2019. They identified this population as their link to the business. However, despite the high interest in the platform the usage was low. The Covid-19 pandemic changed it all.
Explaining the capabilities of people analytics – that it's not about HR performance metrics and measuring the work that HR has done, it's about understanding and analysing the workforce so that you can answer and contribute to business decisions and business outcomes.
The LEGO Group people analytics teams built a people dashboard where they integrated COVID-19 data and updated it daily. One dashboard was shared with all the stakeholders and HRBPs. Thanks to setting authorizations, privacy and security permissions, they allayed privacy concerns and empowered people to find information they needed. The interest was back and growing fast.
As users access and analyse more data, the ability to centrally control permissions to the analytics software has helped reduce risk of data breaches or misconduct and has encouraged the use of fewer spreadsheets. Users focus on understanding the data, what they want from it, and the output they're striving for.
In 2021, the company set becoming data-driven as one of its key pillars, showing that there was a push from the very top of the organization for more data-driven decisions. In this context, HRBPs became more willing to upskill and learn new platform. The LEGO Group people analytics team spent a lot of time matching the requirements from HRBS's to help them understand how the analytics platform and the data could benefit them. These sessions and trainings were very effective and yielded high engagement.
Data such as turnover and headcount and movement weren't enough. It was good information but left people asking, "how will it help?" Integrating performance data, compensation data, and position management helped leaders to look at turnover and headcount but also dive deeper into the data during discussions like quarterly business reviews.
On average more than 90% of their HRBPs are monthly active users of the people analytics platform. Monthly number of analysis views increased to more than 1000 a month. The LEGO Group case shows that you can successfully invest in technology and let that drive the journey.
Data democratisation is also important. "We've opened data to all our people managers," says Melissa Kantor, VP of People Analytics and Insights, The LEGO Group. "They can see all the data for the teams they manage and reach out to newly data-savvy people partners for further guidance or interpretation."
Source: https://www.unleash.ai/events/data-and-analytics/building-blocks-people-analytics-success-lego/
Source: https://www.visier.com/blog/lego-group-people-analytics-journey/
Source: https://www.visier.com/blog/lego-group-digital-transformation/
Data Management
Data is the foundation for all analytics. The proper structuring, managing, governing, and securing data is key to the success of people analytics. To improve business outcomes, you must understand what new data sources can potentially provide new insights.
Data is the raw material of all analytics and therefore key to its success.
It's important to have organized data, but at the other hand you shouldn't wait to have perfect data before beginning people analytics projects. Instead, you should:
Understand what data is available
Have the comprehension skills which will allow data to be captured, cleaned, processed, analysed, and presented
Know how to structure, manage, govern, and secure people data
Know what new data to look for considering increasing numbers of analytics requests, challenges, and opportunities
It is recommended that People Analytics Leader is also Chief Data Officer for HR and has responsibilities: the chief data and analytics officer, data governor, and data ethicist.
Being the chief data and analytics officer means that People Analytics Leader should be responsible for data management, data science, and analytics. Due to high sensitivity of HR Data, People Analytics Leaders should also take overall responsibility for the governance of people data and the wise and ethical use of this data in the organization.
People Analytics Leader should become a facilitator ensuring the best practices around data governance are established. They should set clear vision about the strategy of using people data in the organization.
A people data strategy leverages all data in a manner that drives business value, protects the business and encourages and enables innovation.
Outcomes from a people data strategy:
Value – drives business value and improves performance
Ethics – protects the business and employees
Culture – drives innovation and builds momentum
As data governor, the people analytics leader has an important role in setting the framework for all people data governance:
Strategy and culture
Data policies and frameworks
Data model
Strategy and culture relate to aligning people data governance to the values of the organization, plus legal requirements and compliance frameworks.
Data polices and frameworks ensure that specific elements of people data governance meet jurisdictional and company ethical, legal and regulatory obligations regarding data privacy protection. It also includes permission, access, and retention frameworks.
Data model ensures that data is identified, stored, provisioned, processed, and governed properly. That it is findable, accessible, interoperable and reusable. It also focuses on the storage and security of the people data.
Ethics and data privacy are two of the most important topics in people analytics
By being transparent about the approach to ethics, an organization is likely to gain more trust from employees. By creating trust, and through that trust, company will receive more data from the employees so more value can be delivered.
According to the seminal Accenture study on trust and workforce value, where an organization "adopts responsible strategies the trust dividend could be worth more than a 6 per cent increase in future revenue growth".
Empower people with greater control of their own data
Involve people in designing systems and identify accountable executives
Use technology in responsible new ways to elevate people and to fix own unintended consequences
HSBC is one of the rare organizations that have taken people data stewardship to this level, and it can carefully analyse and securely store data from more than 250,000 workers. HR data-driven insights are supplied and actioned at the highest levels, every employee has self-service access to varying levels of bank data, managers can view their team's people data right alongside information from across the business, and HR and the CFO/COO communities can access daily information – on demand.
You can start with people analytics before you improve the quality of data management. However, to create long-term sustainable and consistent people analytics function, it is important to spend time on developing dynamic and repeatable solution for data management.
There are following data management guidelines for leading people analytics teams:
Align data management with the vision of people analytics
Establish common language, definitions and standards for data
Take cross-functional approach to technology
Get scientists involved
Invest in dedicated data-engineering resources
Breadth and depth of data sources
Bringing people data and business data together is a strong example of the 'two plus two equals five' concept, where the sum is greater than adding together the individual parts.
Teams that work together sharing their data tend to be more successful at solving complex business-relevant topics. Some common use cases:
Customer data plus people data – i.e. employee engagement in bank branches has a direct impact on the cNPS
Finance data plus people data – i.e. examination what is the employee productivity
Sales and revenue data plus people data – i.e. customers cancelling their subscriptions following a poor experience when they applied for a job at the company
Safety and accident data plus people data – i.e. higher leadership quality results in lower crew turnover and better safety performance
Source: https://www.amazon.com/Excellence-People-Analytics-Workforce-Business/dp/0749498293/
Interesting articles
Recommended books
Talent Intelligence: Use Business and People Data to Drive Organizational Performance, by Toby Culshaw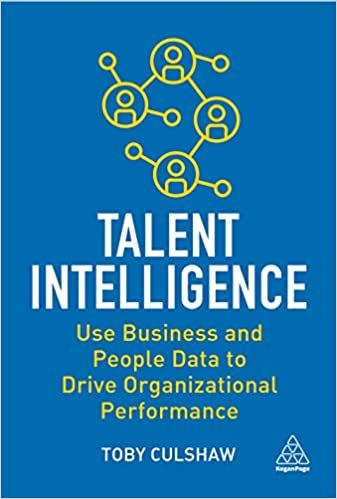 Leverage the power of Talent Intelligence (TI) to make evidence-informed decisions that drive business performance by using data about people, skills, jobs, business functions and geographies.
Improved access to people and business data has created huge opportunities for the HR function. However, simply having access to this data is not enough. HR professionals need to know how to analyse the data, know what questions to ask of it and where and how the insights from the data can add the most value. The book outlines what Talent Intelligence (TI) is why it's important, how to use it to improve business results and includes guidance on how HR professionals can build the business case for it.
This book also explains how and why talent intelligence is different from workforce planning, sourcing research and standard predictive HR analytics and shows how to assess where in the organization talent intelligence can have the biggest impact and how to demonstrate the results to all stakeholders. It also features case studies from organizations including Philips, Barclays and Kimberly-Clark.
The Art of Caring Leadership: How Leading with Heart Uplifts Teams and Organizations, by Heather R. Younger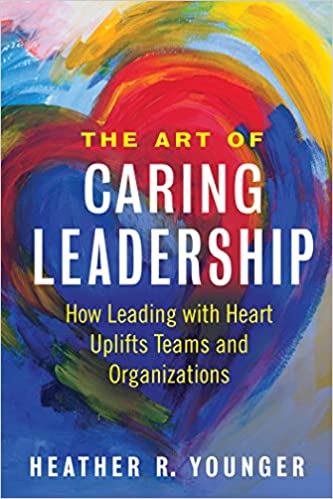 If your people know you care about them, they will move mountains. In this book, the author outlines nine ways to manifest the radical power of caring support in the workplace.
If you are looking for increased productivity, customer satisfaction, or employee engagement, you need to care for your employees first. People will go the extra mile for leaders who show they are genuinely concerned not just with what employees can do but with who they are and can become. But while most leaders think of themselves as caring leaders, not all demonstrate that care in consistent ways. Your employees will judge you by your actions, not your intentions.
This book outlines nine ways that leaders can make all employees feel included and cared for. Leaders have the power to change the lives of those they lead. They shouldn't just want to care, they should see caring as imperative for the success of their employees and their organization.
Bonus: Download a Free E-Book
Explore The Power of People Analytics: A Guide for Business and HR Leaders, by Nicholas Garbis, and Heather Whiteman Ph.D.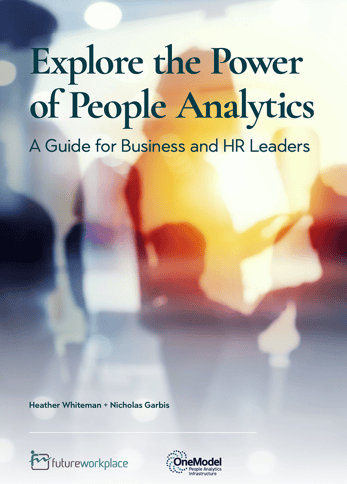 In this brief book from people analytics experts Heather Whiteman, Ph.D. and Nicholas Garbis you will find a practical framework and examples that demonstrate the power and the value that many companies are realizing through people analytics. You can download it for free from here: https://www.onemodel.co/whitepapers/explore-power-of-people-analytics
Inspiring quote
"Behave in a way that is consistent with the legacy you want to leave." – Ken Blanchard
Thank you for reading my newsletter! I'll be delighted to get your feedback about the newsletter and this issue.
Do you know someone who might be interested in this newsletter? Share it with them.
You can also: