Special Edition: A New Better World (of People Analytics)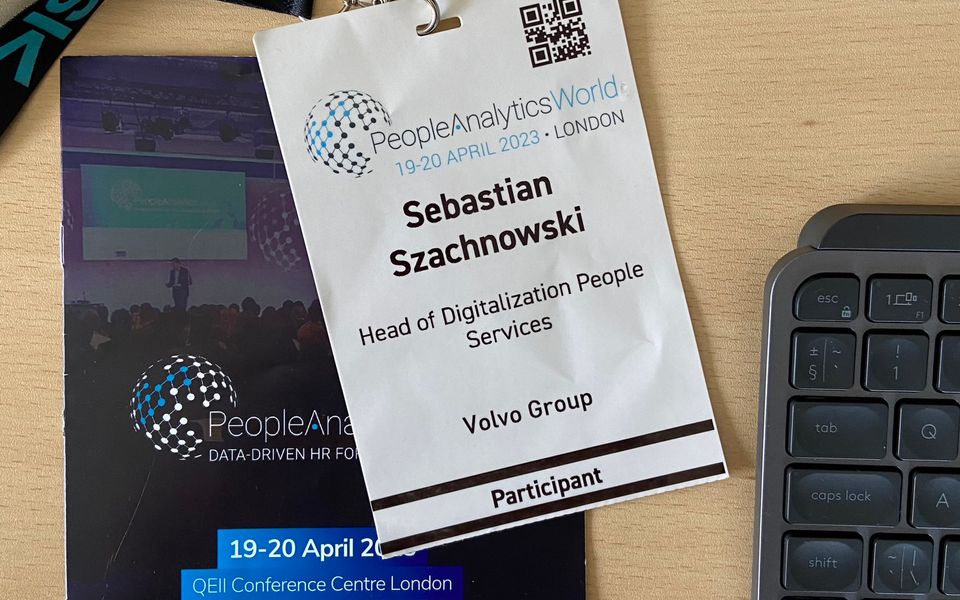 Last week I went to London to attend People Analytics World conference. Definitely, it was time well spent. Therefore, in this edition of my newsletter I will share my reflections and learnings from the conference. Due to this recap, you will have to wait for another two weeks for the promised "AI Is a Key to Data-Driven HR, part 2".
I hope you will enjoy reading this issue of the newsletter.
The Place to Be
On 19thand 20th of April, in London's Queens Elisabeth II Conference Centre, I participated in People Analytics World 2023 conference. There were 395 in-person participants and even more people who were following the conference via the online streaming. The conference offered an impressive line-up of speakers, and fantastic networking opportunities. The agenda included current and future people analytics trends presented by the top-notch line-up od practitioners. Among them such names as David Green, Ian Cook, Kevin Eriksson, Cole Nussbaumer Knaflic, Jordan Pettman, Alec Levenson, Serena H Huang, Patrick Coolen to name just a few.
Let me share some thoughts, ideas, and inspiration from the conference.
How People Analytics Creates Value?
David Green opened the conference with a keynote "How People Analytics Creates Value for Employees and the Business". He started with bringing powerful quote from Kathleen Hoogan, Chief People Officer at Microsoft.
Data is absolutely key to everything we are doing. It is needed in all areas of HR and fuels the insights that helps us make better decisions in all aspects of the business.
This is a strong remark that people analytics is not about HR, its function is to create benefits for the business.
Later, David presented insights from the Insight222's research. People analytics is growing in importance and influence. According to the researchers:
90% of CHRO's have mandated people data and analytics as an essential component of the HR strategy,
90% of people analytics leaders now report to CHRO or CHRO-1,
88% of people analytics teams have undertaken specific work for the board of directors in the last 12 months.
Another conclusion shared by the presenter is that the business agenda is ripe for people analytics, as it includes:
Macro-economic climate,
Growth through skills,
The way we work,
Organisational culture,
Investor demands.
He brought a quote from Lynda Gatton's article "Redesigning How We Work" (Harvard Business Review, 2023):
Now that we know the transition to hybrid work will require a long period of constant experimentation and learning, companies should gather and analyse high quality data if they want to understand what they're learning, how work is getting done, and how employees are feeling…
Leading companies in people analytics undertake their common practices to build their functions and serve their stakeholders:
They invest in their stakeholders and team,
They measure the financial impact of people analytics solutions,
They scale people analytics across the company.
David Green quoted David Swanagon, Global Head of People Insights Technology and Business Excellence at PPG:
If people analytics leaders frame the conversation around growth, sales and market opportunity… we have a different level of influence with business leaders.
The speaker showed 4-grid matrix presenting different maturity levels of people analytics teams:
A-Teams that consistently delivers valuable insights that are productised and scaled,
B-Teams that occasionally flash, but aren't robust enough to be sustainable or to create lasting value,
C-Teams that are over-skilled and over-invested in technology, which is then under-utilised and delivers limited value,
D-Teams that are under-invested in both skills and technology and tends to deliver reporting and some basic analytics.
Next, David Green surveyed conference participants regarding the maturity of the people analytics function in their companies. The results were as follows: 29 people self-assessed themselves as A-Teams, 97 as B-Teams, 12 as C-Teams, and 53 as D-Teams. In total 191 people voted at the moment when I put down my notes.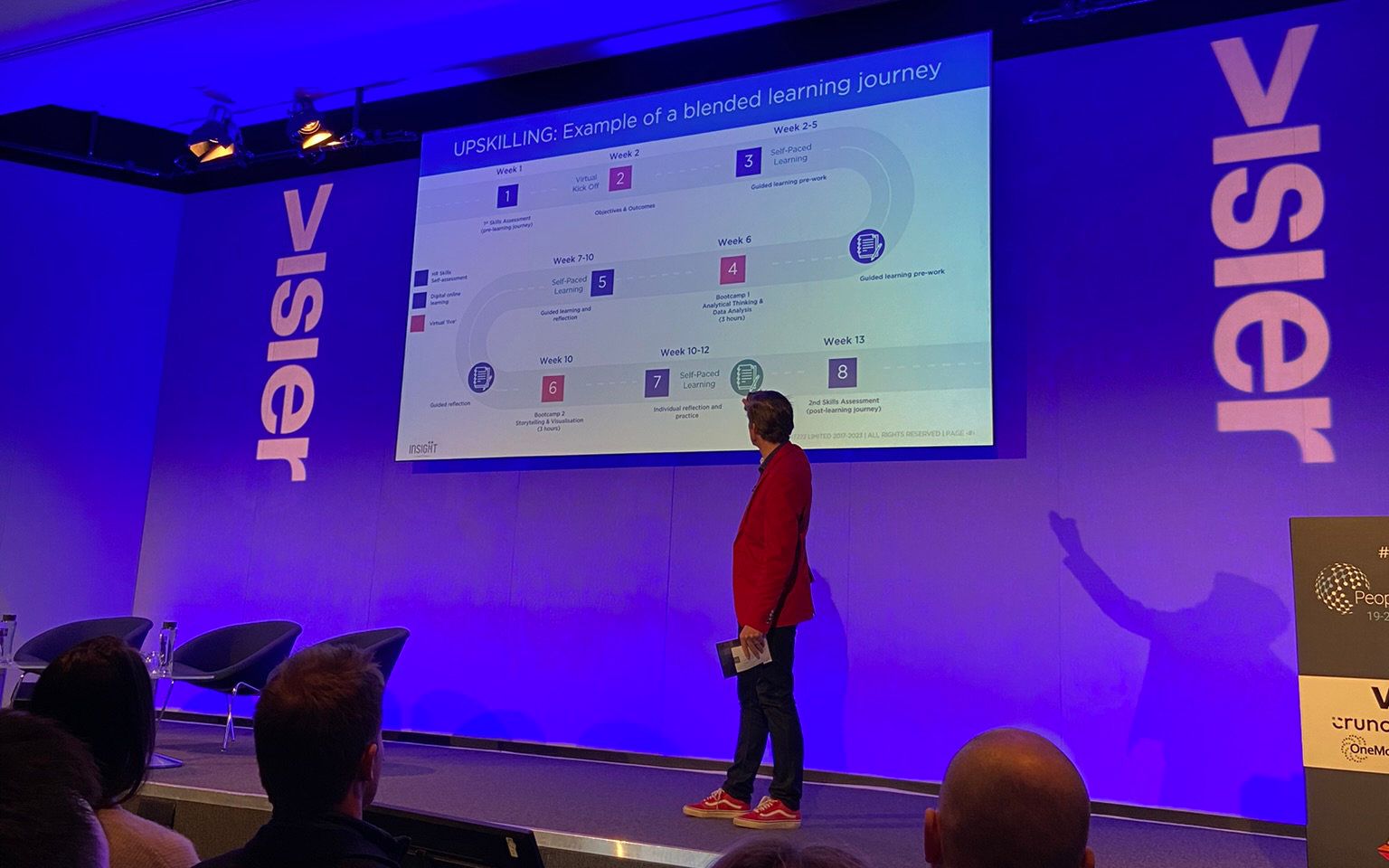 Overall, David's presentation was very positive regarding people analytics market and field growth. In current economy and world of work situation it seems inevitable that more and more companies will utilise people analytics to make informed people decisions and create more business value.
New Normal: Winner Takes It All?
Next speaker was Ian Cook from Visier. He started form presenting Accenture's research which had shown that companies which are leveraging just data and tech have 4% top-line productivity growth, whereas companies which are leveraging data, tech, and people have 11% top-line productivity growth. Ian quoted Chuck Robbins, Chair and CEO of CISCO:
CHRO's have the ability to drive a company's growth and business outcomes by effectively using data insights, technology, and people strategy to the company's advantage.
Afterwards, Ian presented a case study of Providence, the US based medical company. They saved $3M in talent acquisition cost by having the right people in the right place with the right skills, at the right time to serve the community, while they were also reducing the overall workload.
The value drivers in people analytics according to the Visier's model is more data run through more types of analysis and interpretation, distributed to more users. All that leads to more business impact.
Three imperatives for people analytics in 2023 and onwards according to Ian Cook are:
Full cycle automation; from raw data to delivered answer,
Personalization at scale; the right answer, to the right manager, at the right time,
Work results; linking people and teams to deeply understand their work impact.
People analytics can be delivered in tiers. Foundation tier is when PA delivers high volume pieces of regular business information. Strategic tier is when low volume ongoing insights link to business outcomes. The last is niche, where one-off research projects contributing unique insights into critical business challenges/opportunities.
Between delivery tiers there are usually blockers. Between foundation and strategic the blocker is when the most resources are committed to producing the basics. Between strategic and niche the blocker is when there is no tooling to productize and scale strategic delivery. Therefore, recommended resource allocation (personally, I would argue with that ratio – SSZ) is 20% foundation, 40% strategic, and 40% niche.
According to Ian's presentation, personalization of people analytics team's services can be scaled as follows:
Concierge for HR & Executive Leadership Team Board,
Self-service for HR COE and HRBPs,
Consultative for Business Unit & Department leaders,
Personalized for First line people leaders.
To achieve personalization at scale, Ian and Visier recommended to automate the cleansing and processing of data to produce consumer ready answers. Then, use AI to personalize delivery of insights.
Interesting use case was presented regarding the time do new hires take to become productive in software engineering role. The analysis showed that new hires will take some time before becoming fully productive members of a software team. No matter whether they are experienced hires or new graduates. The study showed that story point velocity for 0 to 3 month of tenure was 4 times lower than more senior employees.
Building People Analytics
Next, the conference divided into 4 tracks: strategy, analytics, enable and co-create. The next session I joined was panel debate in the enable track: "Building People Analytics: Balancing Speed and Scalability".
Experienced practitioners Henrik Hakansson, Gishan Nissanka, Maria Norris, Maggie Ward, and Anna Travis as a moderator, shared their perspectives on people analytics function development.
They all do agree that people analytics function should focus to build what people want to use. Hence, the product management approach is key. Building people analytics is balancing speed and scalability. For example, Henrik Hakansson recommended not to focus on all data quality issues, but rather on these which create value for the product you build.
Gishan Nissanka recommended to not get things overcomplicated. Focus on this what user needs instead. Additionally, sell, sell, sell. Use every forum you can go and promote people analytics in the company.
Henrik Hakansson additionally guided that data engineering and data science should sit within people analytics team. In the beginning, when team is small, it's all right if all do all. Later, when the team grows people divide into roles. The key factor is to iterate having in mind user experience. The product team working on the people analytics should constantly deliver value.
Use Skills Data to Understand Your Competitive Position
Next, I was back in Strategy track to see keynote from Kevin Erikson "A Novel Use of Skills Data to Understand Competitive Position".
Kevin has presented 5 big bets from Novartis' talent strategy:
Precision talent,
Leaders of the future,
Talent experience,
Future-ready workforce,
Employer of choice.
Key enablers for the strategy are:
Talent intelligence,
Skill operating system,
Data & technology,
Mindset & capability.
Next, Kevin presented their first project 'to kick the tires': A Skill Evolution Report. He presented market analysis and job analysis regarding skills in specific job profiles. At the end he concluded with following lessons:
Extra care to be hypothesis-led,
Focus on the scope,
Check-in often with partners who will have context.
Next steps for Novartis:
Democratize data for BP's and managers, scale analytics,
Bring skills into their language about jobs and careers,
Refine what levels of organization benefit most from skill-centric views.
A Storytelling Show Comes Next
Next presenter was a true rock star Cole Nussbaumer Knaflic. Thanks to her charisma, she performed on the scene like an actress. That was intentional because her topic was storytelling and data visualization. She did that on an example of a fictional company that has a business challenge related to price increase in key ingredient of the TRIX mix macadamia nuts.
I'm not a bad presenter. Still, I learned a lot from Cole! First of all, she asked the audience to get rid of fillers like ah, so, ok, um, like, I think, really, sort of, very, in fact, right, etc. We all use them, I know. But they are unnecessary. Then she went directly to the meat: how to present your insights the right way. I will not repeat all she said. Without the context it will not make the right impression. However, if there are any skills that everyone should possess, I'd say it's presentation, sales, and active listening. The first one you can learn from Cole. As she said, great presenters are not born, they are trained. Therefore, I recommend following her on LinkedIn or even better buy her book "Storytelling with you". I'll buy it for sure.
Right after this session, I went to co-create track where Simon Rowe run mini workshops on data stories. He has shown that descriptive analysis (yes!) is crucial for any business. Additionally, he presented how to do it right. For example, by giving your presentation the right structure:
Plot: what context is essential,
Twists: what is interesting about the data and what is shows?
Ending: what do you want your audience to do?
Turing Employee Listening into Data Governance
The last presentation I watched on day one was Jordan Pettman's keynote "Baking Employee Listening into Leadership Decisions". Jordan was charismatic on the scene, and he shared a lot of his experience in various companies with the main focus on his people analytics role in London Stock Exchange Company. He has shared a lot of insightful ideas and stories about data governance, fostering data literacy, and data-driven culture that included data quality and data security awareness.
Behavior Science > Data Science
Day two started with strong keynote from Alec Levenson, Economical and Senior Research Scientist from the University of Southern California.
Alec pointed that we cannot predict the future. However, we can attempt to understand the present and prepare for the future by embracing people analytics that is based on behavioral science, psychology, and organizational development.
He has shown an example of compensation which strategy has almost always been backward looking, rather reactive than proactive. Now, the inflation is back so the compensation pressure is bigger than in the past. Alec recommends that to avoid always running to catch up we should base our compensation on economic value created and not on "the minimum we can get away with".
Next, he has argued that ML and AI will threaten Data Scientists as this role is mostly like data mining. According to Alec, more value-adding is behavioral science. And it will take more time before AL/ML will catch up with it.
He has recommended to embrace as many disciplines as we can. That will help to identify more gaps in the system that others miss. Psychology and organization behavior are essential to understanding humans and groups.
As an experienced researcher, he has shared his view on surveying people in an organization:
The "wisdom of the crowd" is not accurate for diagnosing the barriers to improved unit level or organizational level performance,
Many/most people at lower levels in department don't have line of sight into all the relevant cross-functional and organizational issues.
Also, he recommends not to calculate the statistics, but rather to look for people who can take a step back and explain:
The organization's culture history,
Critical past events: "why things work the way they do", and "what don't work here",
How the organizational design impacts decision making, accountabilities, cross-functional work, etc.
Alec recommends starting with strategy and the business results to be achieved:
Identify organization capability strengths & weaknesses, and gaps in strategy execution,
Diagnostics at the business process and team levels,
Diagnostics at the role, individual and/or HR process levels.
The Skills for Each Business Outcome Differ!
Next, I attended presentation of Serena H Huang. She has presented very interesting reflections over the skills-centric approach. However, pure gold for me was to discover LinkedIn Economic Graph!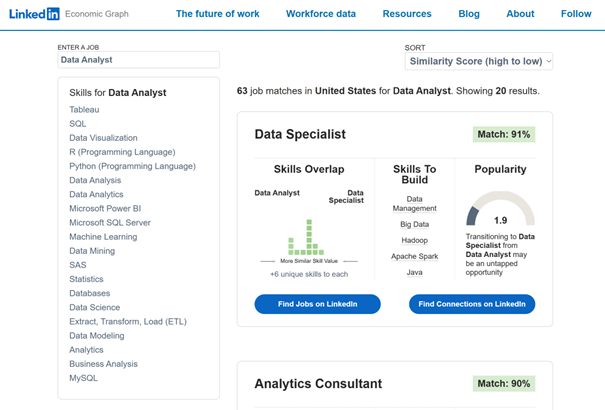 Following presenter was Hesham Ahmedwho talked about developing a people strategy for insights. We need data strategy because:
We lose countless hours chasing down datasets we needed yesterday,
Tech/data integrations are expensive and can be wasteful,
Managing privacy and access is getting complicated.
People Analytics as a Common Practice
Next on the stage was Patrick Coolen. I must admit that I was eagerly awaiting his keynote as I'm following Patrick on LinkedIn (I recommend you do that too) and I truly admire the content he creates.
I wasn't disappointed, as Patrick started with presenting probably the best definition of people analytics I've ever seen.
People analytics is an organizational practice using advanced analytics to understand the impact of the workforce and workforce interventions on business outcomes, such as operational and financial performance, employee well-being, or societal well-being, to ultimately driver decision- and action- taking.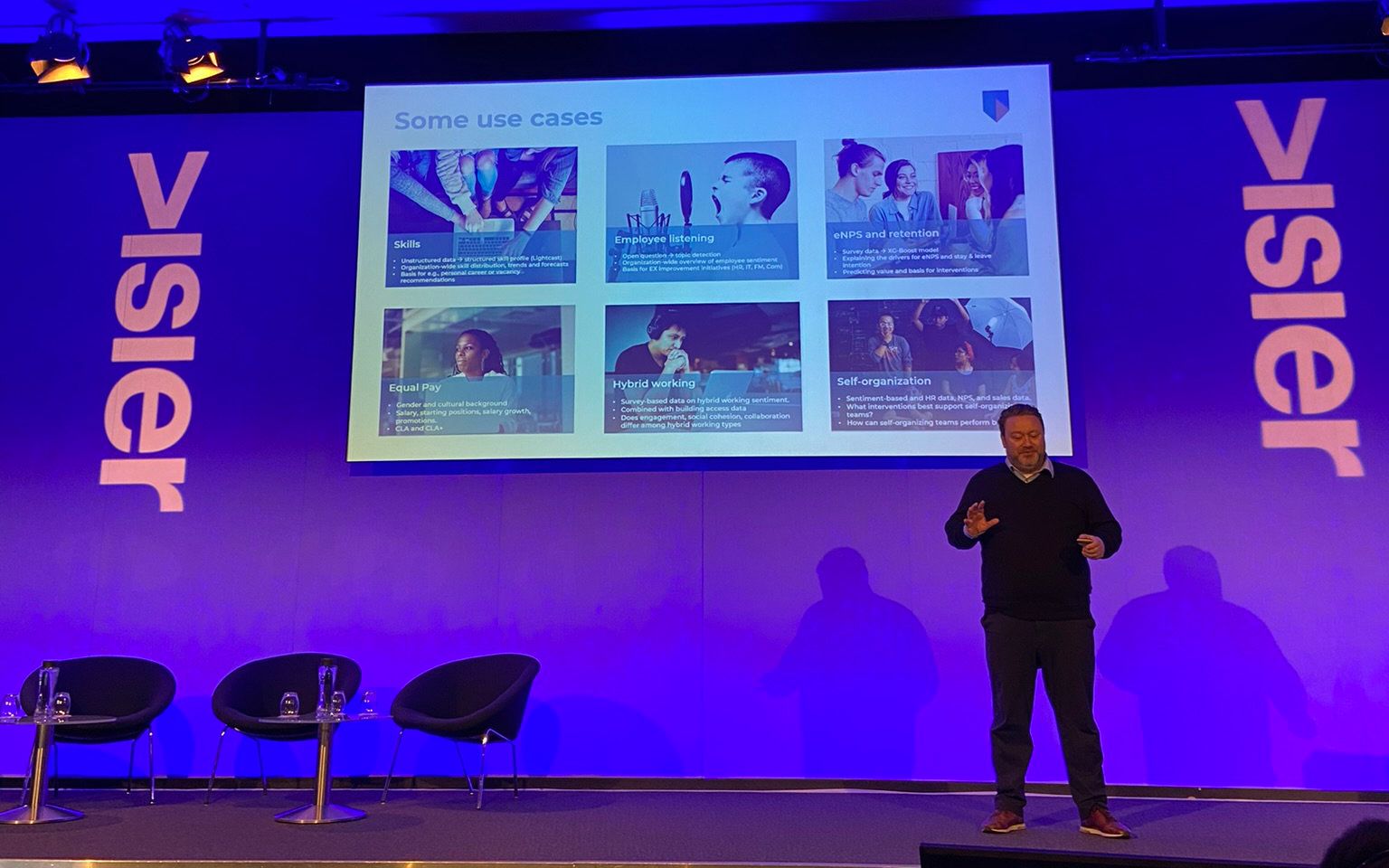 Some use cases of people analytics are as follows:
Skills,
Employee listening,
eNPS and retention,
Equal pay,
Hybrid working,
Self-organization.
Drivers for building people analytics practice:
People analytics FIT (organizational FIT, Environmental FIT, Strategic FIT, Internal FIT),
Stakeholders management,
Structure & process,
Knowledge, skills & abilities,
Data & technology,
PA leadership.
As an experienced practitioner, Patrik has shared his recommendations regarding multiple aspects of the people analytics practice. Below are his thoughts on the technology game:
Tech investments should be based on your existing IT footprint and your analytical ambitions,
Avoid single case vendors,
Avoid black-box analytics (risk of low-quality insights and bias),
Avoid loss of data ownership & maximize data integration,
Ensure data privacy and ethics,
Be the gatekeeper.
And Then It Was Time to Go Home
Next, I watched presentations from Geetanjali Gamel "Maximising the Front-Line Value and Impact of People Analytics" and I listened to the keynote from Jane Datta "The Future Role of HR: Post-Pandemic Design and Transformation". For me, it was time to direct to the airport to catch my flight back home.
Next year, People Analytics Worlds will take place 24-25 of April 2024, at the same venue. I highly recommend this event to all people analytics professionals: those aspiring, emerging, and practitioners. It was a conference full of insights and knowledge. You can check it by yourselves as the online access to most of the presentations will be available for the next 3 months.
Inspiring quote
"All great change in business has come from outside the firm not from inside." — Peter Drucker
---
Want to be a Sponsor?
Would you like to be a sponsor of my newsletter? Contact me: sebastian@szachnowski.com.
---
Thank you for reading my newsletter! I'll be delighted to get your feedback about the newsletter and this issue.
Do you know someone who might be interested in this newsletter? Share it with them.
You can also: