I Would Like to Get Some Feedback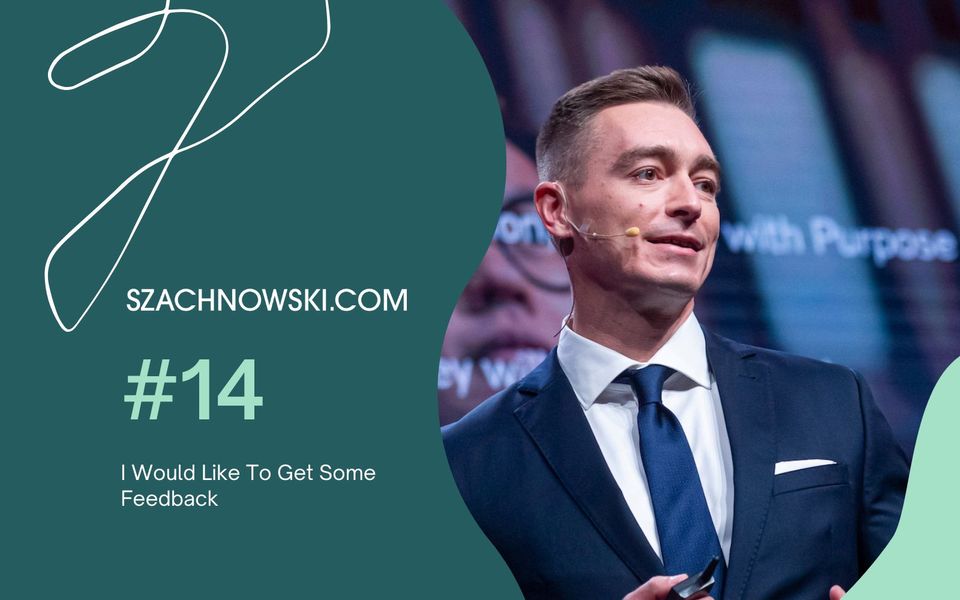 Dear readers! As the number of subscribers of my newsletter is growing, I feel more responsibility for the content I'm delivering to you every two weeks. Therefore, instead of writing the standard long post, I'd like to ask you for bit of a favor. Will you kindly find 2-3 min on your busy schedule to respond to a short survey? I'll appreciate your effort.
Below is a link to the survey. It is completely anonymous and safe.
https://survey.survicate.com/9ed0272270717e26/?p=anonymous
My intention is to receive the feedback that will help me navigate this project into the right direction so that I can offer you the maximum value out of it.
The survey will be open for 7 days from today.
Leisure Time
Last week in Poland, we had two days of the bank holiday – 1stand 3rd of May. Yet, by adding to them three more vacation days and including weekends I got nine consecutive days off in total.
I'm mentioning this because I want to have an excuse why I didn't deliver typical content this week. I was resting. We all should remember about rest and spending quality leisure time whatever type of activity or inactivity it means for us.
Staying in the field of wellbeing and time off, I'd like to recommend to you some reading.
First, Dave Ulrich's article Mental Health Starts with Self-Care: Providing Care for the Caregivers. It touches the subject of mental health and importance of taking care of oneself. Especially, if you're a caregiver.
Being caregivers requires significant personal reserves and must begin with taking care of oneself. Recently, I have observed, researched, written about, coached, and facilitated discussions on caregivers who are feeling burned out and struggle to give the care to others that they desire.
Next, I'd like to recommend an article The workforce well-being imperative by Deloitte.
We believe that three factors have an outsized impact on well-being in today's work environment: leadership behaviors at all levels, from a direct supervisor to the C-suite; how the organization and jobs are designed; and the ways of working across organizational levels. We call these "work determinants of well-being."
For those who have more time for reading an interesting book during spring, I'd like to recommend a book The Microstress Effect: How Little Things Pile Up and Create Big Problems - and What to Do about It by Rob Cross, and Karen Dillon.
This hidden epidemic of small moments of stress has insidiously infiltrated both our work and our personal lives with invisible but devastating effects. Microstress doesn't trigger the normal stress response in our brains to help us deal with it. Instead, it embeds itself in our minds and accumulates daily, one microstress on top of the other. The long-term impact can be debilitating. Unregistered microstress weighs us down, damages our physical and emotional health, and contributes to a decline in our well-being. What's more, microstress is baked into our lives.
My last recommendation for today is The Future of Jobs Report 2023 published by the World Economic Forum.
Economic, health and geopolitical trends have created divergent outcomes for labour markets globally in 2023. While tight labour markets are prevalent in high-income countries, low- and lower-middle-income countries continue to see higher unemployment than before the COVID-19 pandemic. On an individual level, labour-market outcomes are also diverging, as workers with only basic education and women face lower employment levels. At the same time, real wages are declining as a result of an ongoing cost-of-living crisis, and changing worker expectations and concerns about the quality of work are becoming more prominent issues globally.
Enjoy and remember to take care about yourself!
Inspiring quote
"The essence of leadership is not getting overwhelmed by circumstances." — Kim Scott
---
Want to be a Sponsor?
Would you like to be a sponsor of my newsletter? Contact me: sebastian@szachnowski.com.
---
Thank you for reading my newsletter! I'll be delighted to get your feedback about the newsletter and this issue.
Do you know someone who might be interested in this newsletter? Share it with them.
You can also: